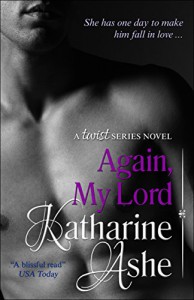 Tacitus Everhard, Lord Dare, has decided that Calista Chance, daughter of the Earl and Countess of Chance from My Lady, My Love, is to be his wife and he sets about courting her, only to have her disappoint him with a rash request that has him retreat to London alone. Calista marries and we meet her six years later at a country Inn, where coincidentally, Dare has arrived as well. Due to a heavy storm the next day, no one is allowed to leave the Inn. It is during this next day that Calista and Dare have an opportunity to rekindle what was started six years ago, but not without extreme challenges to overcome.
The second book in the Twist series is such a revelation. It is so hard to not let the cat out of the bag, but one of the great things about it was that I was totally surprised by what the "twist" was so I don't want to give it away. Calista undergoes quite a transformation. At the Inn, she is initially irritable and terse, not really bothering to think of anyone else other than herself, but we see her endure a significant test of her character through her interaction with the rest of the village. It was remarkable how certain characters in the story came into the foreground after just being casually mentioned prior. Readers discover, along with Calista, that the littlest missed detail can reveal an incredible amount of information. Although the book isn't meant to be preachy, this part of the storyline does make one think of how much we may overlook in life because of our own circumstances and misery, but isn't everyone going through something too?
I LOVED Tacitius Everhard, and he will go down as one of the best heroes ever written. Such a sweet, considerate, thoughtful, passionate man, yet awkward at times. His "I am Dare" response six years in the past became a ready response to things he did later and that he could laugh at himself after six years showed his transformation. It was so touching how he cared about Calista even after all that had occurred six years ago and despite her initially haughty response to seeing him again. His love still burned hot for her after all this time and when he and Calista connected, it was spectacular. Another lesson imparted in this story was how quickly we may jump to conclusions about people and that in turn shapes our perceptions. It was interesting to see Calista and Dare's perceptions of each other change as the story progressed.
Calista did seem to have to go through great lengths to achieve her goal and I think I cried at least ten times while reading this book. Each time Calista parted with Dare, I was just so sad for her. I'm not a water pot nor am I a stoic, but I can count on my hand how many historical/regency romances have made me cry – this is not meant to scare anyone but I'm just saying that I really "felt" what Calista was feeling, what Dare was feeling and that is talent for an author to be able to convey that emotion so powerfully.
Katharine Ashe's writing is beautiful, lyrical, witty, romantic, gripping, and full of emotion. I am continually impressed with her writing and it flows so seamlessly. It wasn't important to have read the first book in the series, and could stand alone, but as every Katharine Ashe book is great, I highly recommend reading it too. I could have read this in one sitting but I stretched it out a tiny bit and was happy to savor it, and now maybe I will go read it again.
Thank you to NetGalley for providing me with an ARC